Edomae Sushi from Sushi Ko of Ginza.
Nigiri-zushi with a little extra care,
the size and softness of the rice cake differs depending on the type of sushi.
There is a deep universe of sushi.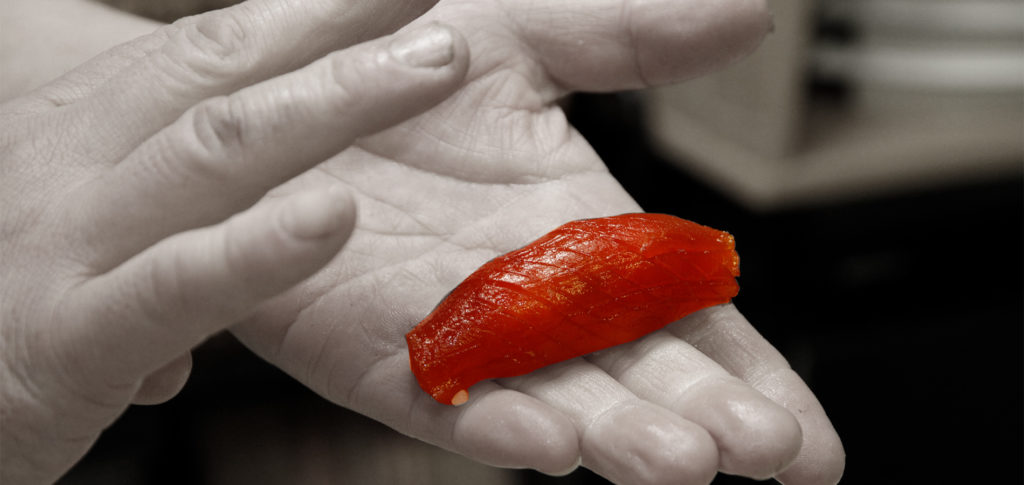 Sushi only 8 pieces of Sushi & 1 seaweed roll (Nori-Maki) ¥5,000
Chef's specials Each course includes 5 Kobachis and 8 pieces of Sushi & 1 seaweed roll (Nori-Maki).
Prices below depend on kinds of food and kinds of fish served.
Yuki (Snow) includes Sakana-Ryori ¥7,000
Tsuki (Moon) includes Sashimi ¥10.000
Hana (Flower) includes both Sakana-Ryori and Sashimi ¥14,000
Reference to the Japanese words used above:
Kobachi: a small dish mainly made of fresh or cooked fish. Depending on the materials,
some of them are marinated, fried, boiled, or baked, while others are served fresh.
They are all good accompaniments of Sake.
Sakana-Ryori: a cooked fish plate larger than Kobachis
Sashimi: fresh fish cut and displayed with professional skills.
Sushi: fresh or processed ingredients put on vinegared rice balls.

All the dishes except Sashimi and Nori-Maki are already dressed.

No soy sauce dipping is needed for our Sushi.
Notice: *Tax is not included in the prices above.
Types of fish and other ingredients vary daily, depending on the day's catch or seasons and our chef's choice.
握り3品例

巻物例

うに、こはだ、いくら

お土産用サンマの棒鮨

握り例

椎茸と穴子